The art of landscape architecture, planning or design has been with us for centuries and practiced throughout the world. The term "Landscape Architect" was first coined by Gilbert Lainig Meason in 1828, but it was American architect, Fredrick Law Olmsted, who began applying that title to the formal profession itself. In 1899, the American Society of Landscape Architects was formed with the mission to advance the practice of landscape architecture through advocacy, communication, education, and fellowship.
Throughout the years, there have been many talented men and women who have practiced the art of landscape architecture here in the U.S. This is just a sampling of a few of the influential individuals who came before us and continue to inspire through their creativity and passion for the craft.
"Landscape architecture practices the fine art of relating the structure of culture to the nature of landscape, to the end that people can use it, enjoy it, and preserve it." – Robert Royston
Andrew Jackson Dowing – American Landscape Architect, (1815 – 1852)
Andrew Downing was a horticulturist, landscape designer, writer and editor of The Horticulturist Magazine, advocate of the Gothic revival in the United States, and to some he considered to be the original "father" of American landscape architecture (a title which he shares with that of Frederick Law Olmstead). Andrew's writing was prolific, and is recognized for works on "Fruits and Fruit Trees of America", "The Horticulturist and Journal of Rural Art and Rural Taste" as well as his continued work to "Educate and influence his readers on refined tastes regarding architecture and landscape design." Andrew partnered with Englishman Calvert Vaux to work on renowned projects such as the grounds of the White House, as well as the Smithsonian Institution in Washington, DC.
Through the publication of "Cottage Residences", he is credited with the popularization of the front porch, where he saw the porch as a link from the house directly to nature. He believed that interacting with the natue had a healing and calming effect on individuals and desired all people to have the opportunity to experience the outdoors.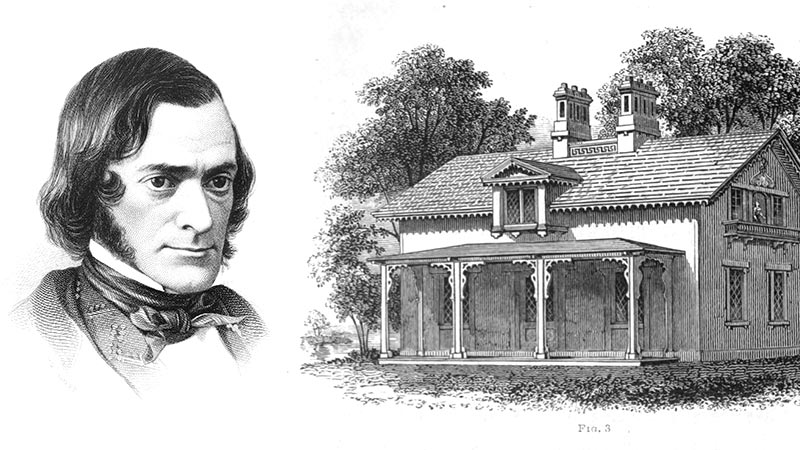 Andrew Jackson Dowing (1815 – 1852)

Fredrick Law Olmstead – American Landscape Architect, (1822 – 1903)
More popularly considered to be the "father" of American landscape architecture (a title he shares with that of Andrew Jackson Downing), Frederick Olmstead's most recognized accomplishments were the co-development of both Central Park and Prospect Park in New York City. His work can also be found throughout the United States on numerous prestigious universities, as well as the landscape surrounding the United States Capitol building.
Influenced by English landscape and gardening and emphasized design that encouraged the full use of the naturally occurring features of a given space. Colleague Daniel Burnham said of Olmstead, "He's an artist, he paints with lakes and wooded slopes; with lawns and banks and forest covered hills; with mountain sides and ocean views."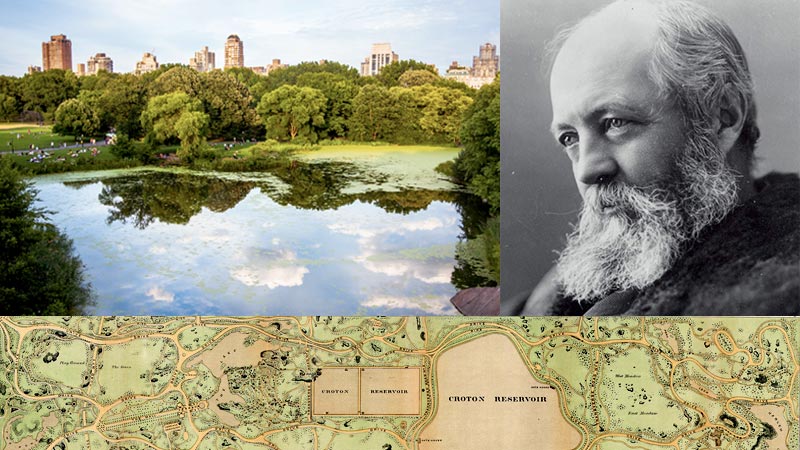 Fredrick Law Olmstead (1822 – 1903)

Beatrix Farrand – American Landscape Architect and Gardener, (1872 – 1959)
Beatrix Farrand was one of the original eleven founding members — and and most notably the only woman — of the American Society of Landscape Architects. She was commissioned to design around 200 private residences, parks, college campuses as well as the White House, over her 50-year career (in spite of numerous gender-based obstacles or barriers that were in her way at the time). Beatrix Farrand was known for "a distinct eye for intricate detail and perfection in execution and innovation."
Considered one of the most successful female landscape architects in early 20th century America, a number of her works can still be seen today in Connecticut, including the Hill-Stead Museum in Farmington, Harkness Memorial State Park in Waterford and Yale University in New Haven.
"Her design was inspired by her European ventures, especially from the Italian Renaissance gardens, and consisted of establishing a sophisticated relationship between the architectural and natural environments, with formal terraced gardens stepping down a steep slope and transitioning to a more naturalistic aesthetic approaching the creek." – Wikipedia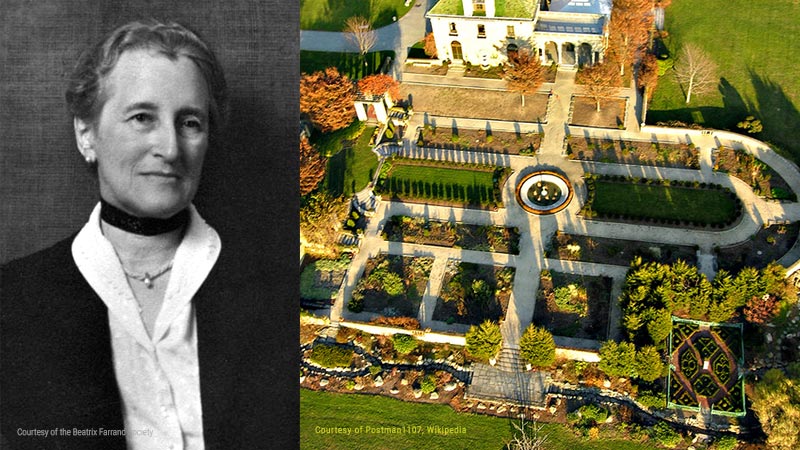 Beatrix Farrand (1872 – 1959)

Thomas Dolliver Church – American Landscape Architect, (1902 – 1978)
"Born in Boston and raised in California, Thomas Church is renowned as a pioneer in American landscape architecture for the introduction of Modernist architecture and art movements into landscape design. The majority of his work was residential, with over 2000 commissioned private gardens in California and 24 other states. Throughout his career, Church "experimented with modern forms and manipulated texture, color and space, all while attending to the practical necessities of site, architecture and client. Of all of the private gardens and notable large scale public commissions he designed, his most recognized is The Donnell Gardens in Sonoma, California."
Unity — the consideration of the design as a whole, integrating the house and its gardens with a free flow between them.
Function — the relation of the outdoor recreational and social areas to their interior counterparts, and of the outdoor service areas to the household's needs, to please and serve the people who live in them.
Simplicity — upon which rests the aesthetic and economic success of the design.
Scale — relating the different design parts, features, and areas to one another, to create a whole an integrated landscape design.

– Principals are from "Gardens Are For People" by Thomas Church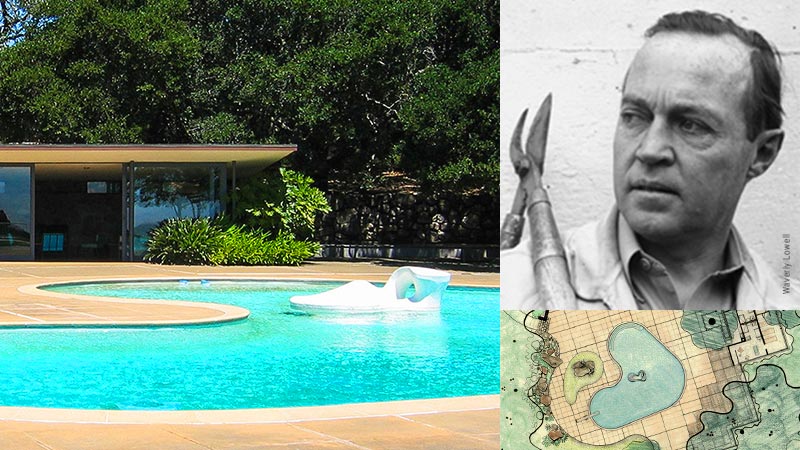 Thomas Dolliver Church (1902 – 1978)

Fletcher Steele – American Landscape Architect, (1885 – 1971)
Born in Rochester, New York, Fletcher joined the Harvard landscape architecture program, where Fredrick Olmsetead's son was one of his professors and mentors. Originally, his early garden plans were modeled on the English Arts & Crafts style and then converted to a more Art Deco style in 1925. Later, he was influential during the stylistic transition from Art Deco and that of Modernism, "being a key figure between the old guard and the moderns."
Fletcher is recognized for a number of major works throughout the United States, most notably that of Naumkeag in Stockbridge, Massachusetts. It was here, he established an over 20 year working relationship with owner Caroline Sterling Choate, transforming the grounds of her 44-room "cottage" overlooking the Housatonic River Valley into a splendid outdoor experience, with multiple unique gardens and the world famous "Blue Steps". It is a perfect example of a client/architect relationship and his work can still be viewed to today, where over 11,000 people tour the house and the gardens each year.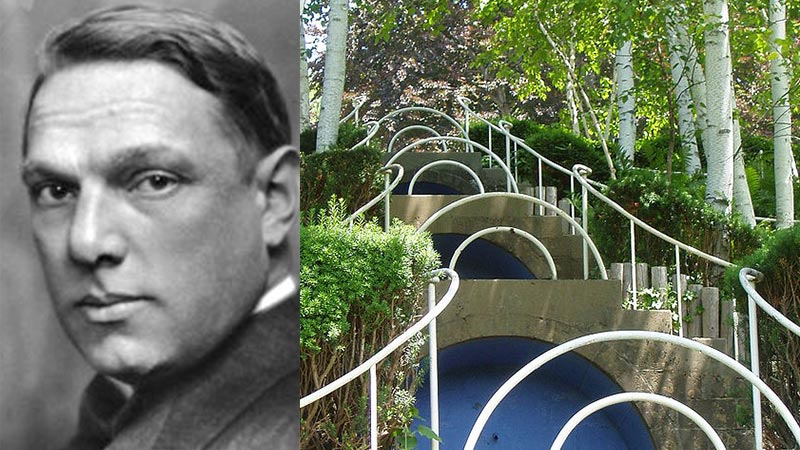 Fletcher Steele (1885 – 1971)

Arthur Asahel Shurcliff – American Landscape Architect, (1870 – 1957)
Arthur Shurcliff was a successful landscape architect and town planner for over 30 years. Skilled at reinterpreting colonial American landscape design, he is best known for his role as Chief Landscape Architect for the restoration and recreation of Colonial Williamsburg, Mr. Shurcliff's other better known public works were that of Old Sturbridge Village, The Charles River Esplanade and the redesign of the Back Bay Fens and zoological park at Franklin Park, all three of which are in the Boston Massachusetts area.
The Charles River Esplanade is a perfect example of a unique and public facing greenery that takes into account waterways, public paths, parks as well as integrating into the urban landscape of Boston and Back Bay. The designed landscape includes over 20 parks and 19 miles of natural areas along the shoreline from the New Dam at Charlestown Bridge to the dam near Watertown Square in Watertown, Massachusetts.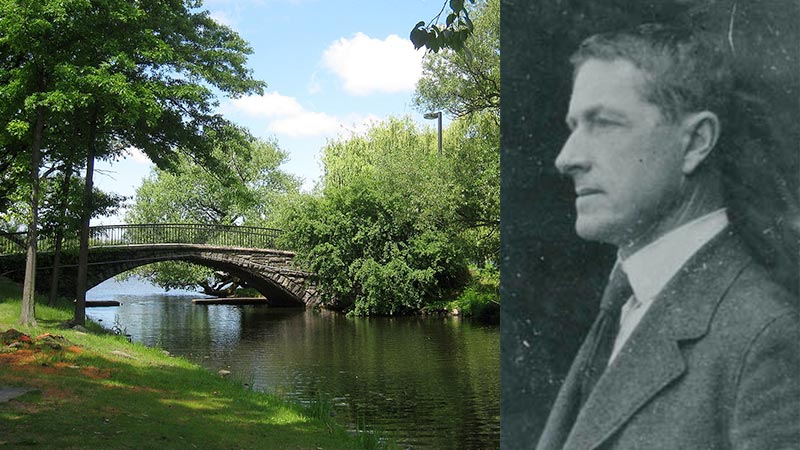 Arthur Asahel Shurcliff  (1870 – 1957)

Samuel B Parsons, Jr. – American Landscape Architect, (1844 – 1923)
Samuel Brown Parsons, Jr. was born to noted horticulturist Samuel Parsons, Sr, and was known as a respected Landscape Architect and most notably as being a founder of the American Society of Landscape Architects, an act which helped to develop and establish the formalized profession of Landscape Architecture throughout the United States.
His reputation was outstanding for his ability to merge elegant plantings and the extensive knowledge he had gained from his father with the native environment without disrupting the "Genius Loci" (spirit of the place). He seamlessly maintained his design aesthetics to all of his design projects, always building upon his earlier work.
Samuel became landscape architect for the City of New York, a career he held for nearly 30 years and oversaw design and planning of a variety of the cities now famed parks and green spaces. His work was not limited solely to the Big Apple, and took on other projects throughout the U.S., including Albemarle Park in Asheville, NC, and Balboa Park in San Diego, California.
Samuel was an extensive writer, with one of his best known books called "The Art of Landscape Architecture", which summed up his theories and helped to inspire many of America's first generation of individuals pursuing the landscape architecture profession.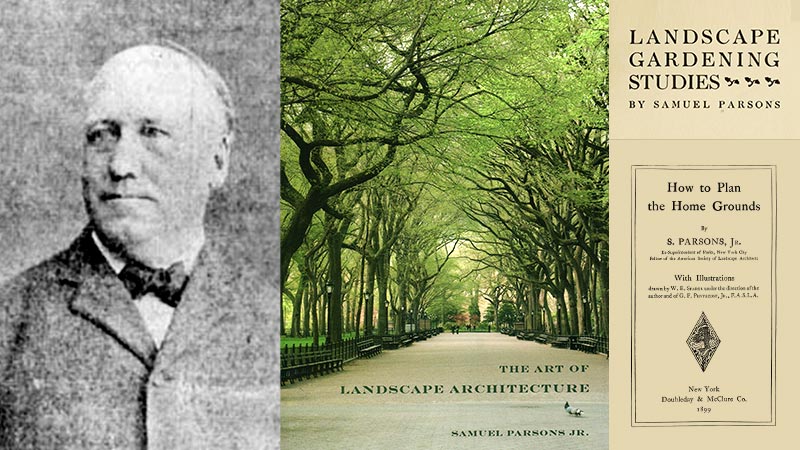 Samuel B Parsons, Jr.  (1844 – 1923)

Ian McHarg – Scottish Landscape Architect, (1920 – 2001)
Born in Scotland, Ian McHarg is included in this list because of his influence here in the United States, both with his founding of the department of landscape architecture at the the University of Pennsylvania as well as his groundbreaking and influential book "Design with Nature" published in 1969.
This book was a step by step instruction on how to break down a region into appropriate uses, pioneering the concept of ecological planning and continues to be one of the most widely celebrated books on landscape architecture and land-use planning.
"Ian McHarg was one of the most influential persons in the environmental movement who brought environmental concerns into broad public awareness and ecological planning methods into the mainstream of landscape architecture, city planning and public policy." – Wikipedia
As stated by ecologist Fredrick Steiner, "Environmental impact assessment, new community development, coastal zone management, brownfields restoration, zoo design, river corridor planning, and ideas about sustainability and regenerative design all display the influence of Design with Nature"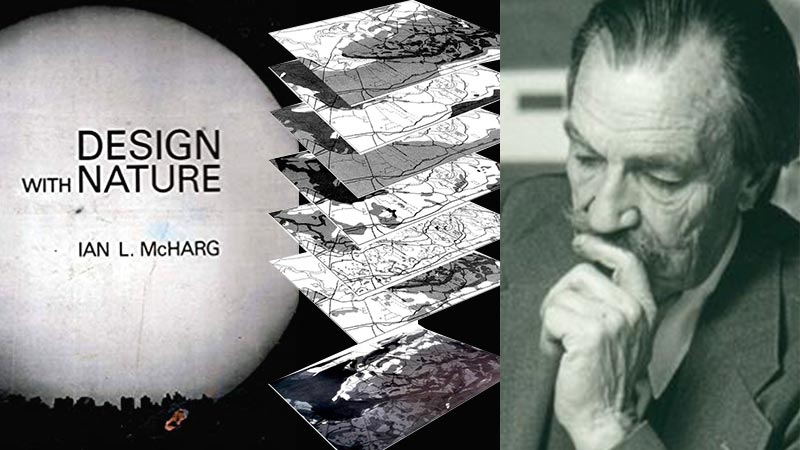 Ian McHarg.  (1820 – 2001)

"Of all the things you can say about planning, one thing is certain: it can no longer be done by one person. And if you can determine what the planning problem is, then that determines the disciplines that must be involved in the solution to the problem." – Ian L. McHarg